Case Study: "The Drunken Whaler" for the Dishonored gameplay trailer
Challenge: Creating an ominous rendition of "The Drunken Sailor" sea shanty for the Dishonored gameplay trailer, which was unveiled prior to the 2012 Electronic Entertainment Expo (E3) in June.
Results: Since the Dishonored trailer launched, it has received more than 850,000 views on YouTube and won Machinima's "Best Trailer" award. Due to the popularity of the trailer's music, COPILOT and publisher Bethesda Softworks recently announced a remix contest and have released the full-length version of the song for free on the Bethesda blog.
"When we came up with the idea for 'The Drunken Whaler,' it was both exciting and nerve-racking," says Regi Jacob, Bethesda Softworks Senior Brand Manager. "You only get one shot to distinguish your game from all the others at E3. Ravi Krishnaswami and Jason Menkes, COPILOT Partners, immediately grasped what we were trying to accomplish and created something truly chilling – and that ultimately captured the tone of the game, as well as gamers' imaginations. Their ability to pull the song together was impressive, but the speed at which it happened was phenomenal. They go out of their way to be collaborative and have a knack for understanding what you're looking for and pinpointing what works."
"COPILOT's distinctive re-imagining of 'Drunken Sailor' was nothing short of beautiful," says Charles Bae, Chief Creative Office/Partner at Rokkan, the full-service creative agency behind the game's advertising campaign. "It helped make Dishonored's E3 trailer a memorable experience for both the fans and the Dishonored brand. It was a challenging task, and their studio understood right away the mood and goals we were trying to accomplish with the trailer. Troll YouTube for covers of 'Drunken Sailor' and I guarantee this is the best contemporary version in existence. COPILOT gets it."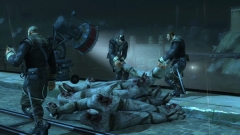 The new lyrics for "The Drunken Whaler" are darker than the original song, so many of the discussions revolved around which verses would best inspire Bethesda's editor, Salinee Goldenberg, to craft a three-minute story from the gameplay footage. The group decided on using the voices of ordinary children – rather than a professional youth choir – to achieve a dark, haunting quality to the music. This created an interesting juxtaposition between the innocence of the voices and the brutality in the gameplay footage.
COPILOT produced a number of versions in multiple tempos so they could really explore how the song should feel, and where the lyrics would fall in the final piece. After debating a variety of instrumental approaches to the arrangement, COPILOT built a unique ensemble of instruments including the hurdy-gurdy, violins bowed behind their bridges, and distorted, detuned guitars. During a hands-on studio session with Jacob and Bae, the team hammered out the final musical elements. This included a recording of the "whaler stomp" in which the entire assembled team stomped on wooden boards to create a visceral pulse that suited the creepy violence in the track.
"The biggest challenge was casting the chorus of child singers," explains Menkes. "We initially reached out to public schools around New York, including an elementary school where my mother is assistant principal. We quickly realized that it was going to be difficult to get permission from parents to allow their kids to sing about slit throats, rusty cleavers, and hungry rats. In the end, we crafted a choir from child actors who could carry a tune, adult singers who impersonate young voices, and the children of our very understanding family and friends."