It's Here! Our Much-Loved Year-End Playlist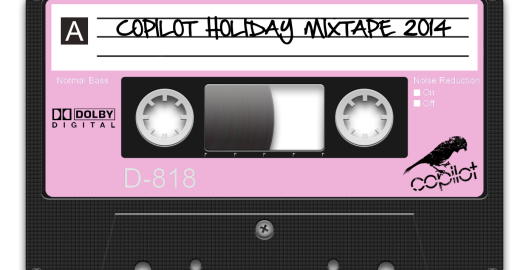 You've asked us about it all year. Here it is, our much loved holiday mixtape! Stream all the songs and read our song-by-song liner notes right here, or download a .zip of the playlist (higher bitrate mp3) to get it into your favorite device.
Side A (Ravi's Mix)
2014 has been a fantastic year for music. A huge number of artists I absolutely love all returned with strong new albums, or have them set for early '15. I had an easy time finding great stuff, but in many cases a hard time narrowing it down. Albums like Stars' "No One Is Lost" are almost diminished by trying to pull one track out. Please do yourself a favor and give these albums a full spin.
1. Johnny Marr "Easy Money" (from Playland)
If you know me, know that I also go by the name "Ravi Marr" in my Smiths tribute band. I am the ultimate fan boy. Playland is a strong new solo album. Johnny's lyrics and vocals are still not transcendent, but he's getting better, more melodic, and more purposeful in his singing. This song is a bonafide hit, and like any good Johnny track, it's driven by an unforgettable riff.
2. The Pains of Being Pure at Heart "Life After Life" (from Days of Abandon)
POPBAH have a really strong new record, and this is my favorite track because the verses remind me of how I felt hearing The Sundays for the first time, on a discman on beach. They sound like the band I imagined starting when I started my old indie-pop band Charming.
3. Morrissey "Forgive Someone" (from World Peace Is None Of Your Business)
Morrissey continues to make great music, despite having a hard time living up to the high water marks he set with The Smiths and his 90's solo output. This song, a B-side that appears on the "deluxe" version of his album, features haunting lyrical imagery, something he's largely moved past as he gets older and more direct, and a moody arrangement that gives his voice the space it deserves. Loved this as soon as I heard "the black peat of the hills, when I was still ill."
4. Stars "Trap Door" (from No One Is Lost)
Stars are one of those bands that constantly have me wondering why they're not bigger. It's easy to pick any one of Amy Millan's lead vocals as a standout track, she's so consistently great, but Torquil Cambell is the unsung genius in this band and when he gets angry, his performances are mesmerizing. I love bitterness of this track.
5. Unknown Mortal Orchestra "From The Sun" (from II)
I happened to catch this band on a whim on their last swing through the east coast and I have to say that was one of the best drummers I've ever seen. Anything on the indie label Jagjaguar is worth checking out. I love this band's slightly vintage sound, they somehow find a new spin on it, and I love the guitar playing, which is complex but never pretentious.

6. The New Pornographers "Born With A Sound" (from Brill Bruisers)
Brill Bruisers is another album that was hard to pull one track from. New Pornographers have consistently delivered great albums full of twisting and turning rock anthems with compound song structures that would best be drawn out on a white board. I picked "Born With A Sound" because of the great vocal interplay between Dan Bejar and Kathryn Calder, who rarely gets a solo, and should get more (no offense, Neco Case)
7. Superchunk "FOH" (from I Hate Music)
Who would guess that this band is 25 years old? Their new(ish) record rocks. I picked this song because I love expressions that only make sense to touring musicians, like 'front of house."
8. Die Shaferhunde "Zug Nach Hamberg (Train To Hamberg)" (from "Wolfenstein: The New Order")
So we made an album's worth of songs from fictional German artists to be part of the recent "Wolfenstein" video game release, which is set in an alternate 1960's where the Nazi's won the war. Die Shaferhunde are the teen heartthrob band, in the mold of The Beatles or The Monkeys. I absolutely loved this project and loved writing this song in particular.
9. Lucius "Don't Just Sit There" (from Wildewoman)
Jason turned me on to Lucius and we were lucky enough to catch them at SXSW this year. Go see them now! Powerful vocal harmonies, passionate and unique songs, wonderful dynamics and great stage presence. This is the track I had on repeat all spring.
10. Velocity Girl "There's Only One Thing Left To Say" (from Simpatico!)
Every year there's a band or two that I return to after many years. When I formed my old band Charming in the 90's, down in Virginia, Velocity Girl were like our successful big brothers/big sisters living in the big city (DC). They were signed to a great indie label, touring, spinning on college radio, and most importantly, they got to make a record with original Smiths producer John Porter. Listen to this track, mixed by the guy that mixed "This Charming Man." I wanted to be just like them.
11. Belle & Sebastian "Nobody's Empire" (from Girls In Peacetime Want To Dance)
This is the amazing first single released from Belle & Sebastian's forthcoming album. Hyper literate, melodic and at times very powerful, this is a band that challenges the notion of Twee. They are aging well. I'm very excited for 2015.
12. The Decemberists "Make You Better" (from What A Terrible World, What A Beautiful World)
New music from B&S and the Decembrists in the new year! I read that this album was in some ways inspired by the tragedy at Sandy Hook. If this is true, it may be a tough listen, in a good way, as Colin Meloy is one of our finest current lyricists. This first single is up there with their best work, and is a great example of their dynamic range. Oh, and one bit of trivia: I played guitar with them for half a song at Radio City once. Email me for pictures.
13. Doug Gillard "Ready For Death" (from Parade On)
I got to know Doug this year after meeting him at one of my recent shows with The Sons & Heirs. He's just a damn great guitar player and songwriter. First time I saw him play live was when he was in Guided By Voices (google the song he does with them called "I Am A Tree" if you've never heard it). He's currently playing with Nada Surf (another great band with 90's roots) and putting out his own music, which can at times sound like Elliot Smith if he got on antidepressants… an early Beatles-influenced songwriting approach combined with a softer vocal approach. Oh, and speaking of early Beatles, he's also in a project called Bambi Kino that does early Hamberg-era Beatles.
14. Jo-Hannah Reynolds "Change Of Plans" (from Change Of Plans)
Jo-Hannah Reynolds is a friend and a graduate of the Vermont College of Fine Arts Masters in Music Composition program where I teach from time to time. She just put out a fantastic debut record that sits somewhere between pop, folk and jazz, and her voice is soulful but understated. Norah Jones anyone?
15. Aloe Blacc "The Man" (from Lift Your Spirit)
"I believe every lie that I ever told" … what a line! I had a chance to see Aloe Blacc twice at SXSW, solo acoustic and full band. The album production doesn't actually capture what a great performer he is, and how in command of an audience and a band he can be. Either way, this was a song that was just waiting to be written.
Side B (Jason's Mix)
1. St. Vincent – Birth In Reverse"
This is St. Vincent's 3rd appearance on my year-end lists, and with good reason.  Annie Clark's guitar playing is wild and masterful, and sounds like no one else.  The same can be said for her songwriting and production as a whole.
2. D'Angelo and the Vanguard – "Sugah Daddy"
One of the benefits of waiting until the last minute to make my list is getting a track like this, which was released only last week!    It's been 14 years since D'Angelo's last album and man, was it worth the wait.  There's elements of Allen Toussaint, George Clinton, and Prince, but it's uniquely D'Angelo.  Funkiest, weirdest thing I've heard it a long time….
3. The New Basement Tapes – "When I Get My Hands On You"
This gimmick shouldn't have worked – take a bunch of Bob Dylan disciples, stick them in a studio for a week with the master's unused lyrics and hope for magic.  Most of the (impressive) results sound like a recreation of the loose jammy sounds of the original Basement Tapes from 1967.  But the best of the bunch is this minimal, modern production written and sung by Marcus Mumford.
4. Lorde – "Yellow Flicker Beat"
I was lucky enough to see Lorde live this year.  Despite performing with only two musicians (and a lot of backing tracks) I was floored by her command of the stage and the crowd.  And this track from the Hunger Games: Mockingjay – Part 1 proves that her debut album wasn't a fluke.  She's an amazing writer and performer and I can't wait to see what comes next.
5. Broken Bells with Ringo Starr – "And I Love Her"
There were several performances this year to celebrate the  50th anniversary of The Beatles' first appearance on The Ed Sullivan Show, but the most interesting was this cover of "And I Love Her" from The Late Show with David Letterman.  The duo's only accompaniment were Ringo Starr's actual drum loops pulled from the original recording of "I Am The Walrus" (and broadcast on an old television set).
6. Ryan Adams – "My Wrecking Ball"
Just a devastatingly beautiful song.  The subtle keyboard work adds a layer of early Bruce Springsteen production without taking away from the intimate performance.
7. Béla Fleck and Abigail Washburn – "Railroad"
Banjo's been the go-to instrument in a lot of pop music recently, but it's amazing to hear it in the hands of two masters.  This husband and wife duo put out one of my favorite records this year, and I'm obsessed with this bluesy re-interpretation of a song I've known my whole life.
8. James Bay – "Hold Back The River"
Solid songwriting and a voice that swings from sweet falsettos to gritty rock belting.   This song's been on my steady rotation and I'm looking forward to his debut full album coming out next year.
9. Lucius – "Genevieve"
I know Ravi put Lucius on his playlist as well, but they deserve a second listen.  They were by far the most impressive performance I saw at SXSW this year.  "Genevieve" sounds like a modern take on Tusk-era Fleetwood Mac.
10. Future Islands – "Seasons (Waiting On You)"
Like many people, I discovered Future Islands' 80s inspired synth pop after their performance on the Late Show with David Letterman.  I was mesmerized by lead singer Samuel T. Herring's impassioned "awkward-dad" dancing, but this song has been humming in my subconscious ever since.  It sounds like a track from a long-lost John Hughes film.
11. Alt-J – "Lovely Day"
I was happy to see English rockers Alt-J staying wonderfully weird on this year's "This Is All Yours".  This cover of Bill Withers' 1977 hit is nearly unrecognizable from the original, (even changing time signatures from 6/8 to 4/4 after the first minute)
12. Hozier – "From Eden"
Ireland's Andrew Hozier-Byrne has been on a lot of year-end lists in 2014, with most of the attention on his star-making single "Take Me to Church".  But I love the lighter, almost Van Morrison-like feel "From Eden", and it's rare to hear such a solid R&B groove in an odd 5/4 time-signature.
13. Viktor & Die Vokalisten – "Berlin Boys & Stuttgart Girls"
Another selection from our work on the soundtrack for the video game "Wolfenstein: The New Order", this is the track that tricked Iggy Pop!  The rock legend played our song during his BBC Radio broadcast, introducing it as if it were a from an actual band in the 1960's!  (I'm also proud of the vocal arranging work I got to do on the track).
14. Sia – "Chandelier"
Australia's Sia is best known for writing big, dance-floor anthems for other pop stars.  And her latest album, 1000 Forms of Fear, is filled with the kind of sing-along hooks and lush production that you'd find on the Billboard Top 10.  But it also has a raw, lyrical honesty (inspired by her struggles with alcoholism) and jaw-dropping vocal performances rarely seen in a song this radio-friendly.
15. Rodrigo Amarante – "Nada em Vão"
I knew nothing about Rodrigo Amarante's history with the bands Los Hermanos and Little Joy, or his collaborations with Devendra Banhart, when I saw the Brazilian singer-songwriter perform this year at Rockwood.  He happen to be the next act after the artist I came to see.  But I've never seen an artist so warm, approachable, and connected to his audience.  The entire venue was smiling and singing along throughout his set. The title, in Portuguese, translates to "Nothing In Vain", but you don't need to understand the lyrics to let the intimacy and odd beauty wash over you as we wrap up 2014.