Seeya 2016. Here's Our Year End Mixtape!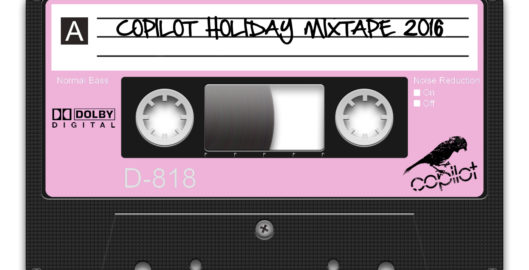 It's a COPILOT tradition to end the year by sending you a lovingly curated mixtape. We're still just two music nerds eagerly sharing opinions and new discoveries, and we always love hearing from you. Commenting is enabled on this post!
Once again we are sending out our mixtape as two Spotify playlists, one for each side. We really love how easy it is to discover and share music in Spotify, and we're guessing many of you might be listening to it right now.
So fire it up and enjoy, and know that more music from every artist is just a click away. Liner notes follow the embedded playlist windows… please let us know your thoughts!
Side A: Ravi's Mix
Bon Iver "22 (Over S∞∞n)"
It is so reassuring and inspiring when a record comes out that sounds completely new. Justin Vernon's vocal production, vocal performance and lyric writing are completely experimental and interesting.
Cindertalk "Ruminating"
Jonny Rodgers is a friend and composer with New Haven origins, and he's worked a few projects with COPILOT. His new record is phenomenal, and this song might be my favorite. It's uplifting and profound lyrically, and every sound is pristinely recorded. The chime like sounds in the beginning are water glasses, by the way.
The Soldier Story "Talk With Our Eyes"
Cindertalk's record is part of the Off Atlas label, and that's how I found The Soldier Story, another artist with New Haven roots. At a certain point, this song wrestles with how smart phones have destroyed a basic part of human communication. I love music that either says something a new way or says something new, and this song does it.
Hybird "Endangered"
Hybird is my new recording project. In some ways much of the music in my playlist this year has directly inspired the kind of music I want to write. I wrote this song a couple years back and it's a good companion to the last song on the subject of devolving human communication. I am super excited to share new Hybird songs starting in the new year, there's a whole lot more to hear and I'd can't wait.
Carly Rae Jepsen "When I Needed You"
Everything I've shared from Hybird has been indie-folk, but I'm also working on some music that draws more directly from straight up pop. When I mentioned this to a friend, I was encouraged to check out Carly's latest record and wasn't disappointed. It is just so well crafted it's easy to get past the somewhat predictable lyrical territory. The last track is my favorite and I encourage to check out the great Song Exploder for the writing and production backstory, which .
http://songexploder.net/carly-rae-jepsen
Bleachers "I Wanna Get Better"
I'm not sure there's a song that better captures the feeling of an emotional, spiritual turning point/crisis/breakthrough the way this does, in ways that are reflected in the writing, performance and production. When he's shouting at the interstate, we are right there shouting at the interstate. I love this.
Radiohead "Burn The Witch"
That string sound. And new Radiohead. No other words needed.
Bradley Turner "No One's Gonna See My Christmas Decorations"
I'm often irritated by Christmas music, so anti-Christmas music suits me well. I am honored to call myself both a mentor and a fan of Bradley Turner. His songs are always so direct, real and from the heart. He is sitting on a bunch of great material, we just need to coax him to release it now.
Junius Meyvant "Signals"
It's weird. Nothing else on this album sounds like this song, which I discovered on the wonderful soundcloud sorting app called Indieshuffle.
Usher "Wait For It"
We've had full-blown Hamilton fever in our house for months, falling in love with the cast album, and devouring everything else available, including the mixtape, which is great for situations just like this playlist: I love the song,it's in my top three Hamilton songs, but a cast recording would feel a little out of place in a pop playlist. Leslie Odom's performance might be better, but Usher does great things with the song, tapping into the simmering, patient depth of Burr.
Jo-Hannah Reynolds "Runaway"
Jo-Hannah Reynolds came through the VCFA MFA program where I teach, and she's an amazingly talented singer/songwriter drawing on jazz, pop and Americana. We've had her sing on a few things at COPILOT recently. This is my favorite song on her new album "Morning Light." Really moving.
Fleetwood Mac "Gold Dust Woman"
I was really excited to have an opportunity to rearrange this song for this year's Dishonored 2 announcement trailer. Our full version is available on Amazon Music. But no matter how much I love what we did for D2, I'll never get tired of hearing Stevie sing it.
Side B: Jason's Mix
A Tribe Called Quest "We The People"
One of the few silver linings to the ugliness of 2016 was that it inspired this track.  Even better – it accompanied the return of Tribe Called Quest.  The sing-along melody in the chorus makes the lyrics even more anger-inducing.
Sharon Jones "I'm Still Here"
I was lucky enough to work with her twice (she was one of our first artist collaborations at COPILOT.  And she was just as funny and sweet as you'd hope she would be.  "I'm Still Here" was the last single released before she died this year.  A musical autobiography that's as soulful, funky, and celebratory as Sharon herself.  This one's going to hurt for a while.
David Bowie "Lazarus"
This song would've made my year-end list even if Bowie hadn't passed away.  When the album (Blackstar) was released, it wasn't publicly known that he was ill with liver cancer.  In retrospect, the lyrics read like a final goodbye ("Look up here, I'm in heaven/I've got scars that can't be seen"), but the music doesn't sound nostalgic or reflective.  It's moody, tense, exploratory, and beautiful.
Frank Ocean "Ivy" 
A collaboration with Vampire Weekend's Rostam Batmanglij (playing the minimal guitar accompaniment), "Ivy" encapsulates what I love about Frank Ocean's plain-spoken heartbreak.  When he announced his last-minute pop-up store in NYC, I was a few blocks away with my then seven-month-old daughter.  We grabbed a copy of his magazine "Boys Don't Cry" – with the album hidden inside.  Hopefully that'll earn me some "cool dad" points later on in life.
Car Seat Headrest "Vincent"
It takes a good two minutes for the intro to "Vincent" to build to its full manic energy (and almost another minute before Will Toledo starts singing).  But it's a fascinating build, and rest of the 7:45 arrangement is full of interesting structural and instrumental shifts (random brass sections, noise guitar, drum breaks).  Talking Heads meets Pavement meets Courtney Barnett meets Cake meets Franz Ferdinand?  And I love the lyric "If I'm being honest with myself, I haven't been honest with myself"
War Paint "New Song"
Before my playlist gets too depressing, here's a great palette cleanser.  I sometimes find the LA quartet a little too sleepy, but they boost their energy on "New Song" with a more Pop friendly production and chorus that reminds me of early 80s Bananarama. =)
Maren Morris "My Church"
I can be cynically dismissive of Country Pop, but I was turned on to this track during a visit to Nashville this year and got hooked.  Try not to sing along.
Ryan Adams "Do You Still Love Me?"
Ryan Adams's first original song released since his track-by-track remake of Taylor Swift's 1989.  It's a mid-tempo power-chord rocker, but the arrangement keeps breaking down to a simple reverb-drenched church organ that beautifully accompanies Adam's voice. Really looking forward to hearing the full album in 2017!
Kayne West "Ultralight Beam"
After such a divisive year, who would've thought Kanye would be one to release the most optimistic song of togetherness and hope?  Or that he would relinquish most of the spotlight to collaborators The Dream, Kelly Price, Chance The Rapper, and Kirk Franklin?  The minimal arrangement is full of delicious ear candy (gospel choir, bass-guitar runs, harmonica, backwards synths, distorted drums breaks that don't lead into full beats), but it's really the vocals – rapped and sung – that hit the heart.  Maybe 2017 won't be so bad after all…
(NOTE: If we weren't using Spotify for our playlist this year, Beyoncé's "Lemonade" would probably have made this list at least three times.) =)