COPILOT created an ominous rendition of "The Drunken Sailor" sea shanty for the Dishonored gameplay trailer, which was unveiled prior to the 2012 Electronic Entertainment Expo (E3) in June.
Since the Dishonored trailer launched, it has received more than 850,000 views on YouTube and won Machinima's "Best Trailer" award. Due to the popularity of the trailer's music, COPILOT and publisher Bethesda Softworks recently announced a remix contest and have released the full-length version of the song for free on the Bethesda blog.
Read the entire story at shootonline.
On 09, Dec 2009 | In News |
December 21, 2009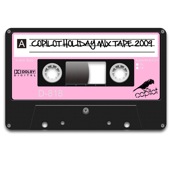 It's been an exciting year at COPILOT and we'd like to take this opportunity to thank you for being part of our family. Like most music geeks of our generation, when we wanted to say thanks and share our latest discoveries, we made mixtapes. We're not sure how many of you have working cassette decks now, but we hope you download and enjoy our first annual holiday mixtape while relaxing by a fire with a glass of eggnogg, or as you're traveling over the river and through the woods. We love talking music so tell us what you liked and why!