COPILOT Holiday Mixtape 2017 Edition!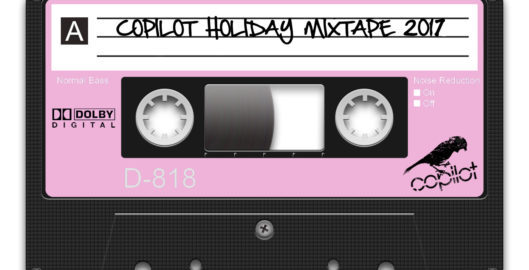 Hola friends!
A COPILOT tradition continues with the 2017 edition of our holiday mixtape. Ravi's Side A, with very quick liner notes is here!
Hybird – Distracted – This is definitely the single from the solo album I put out this year, and this song that seemed to resonate with the widest variety folks. It's a bout smartphone addiction and mindfulness…how 2017! hybird.bandcamp.com hybirdsongs.com
Stars – Privilege – One of my very favorite bands,  they come from Canada but started in NYC (and my old band Charming shared a bill with them once at Fez…). They haven't put out a bad record, and this one, produced by Peter Katis (Interpol, etc, etc) is phenomenal. I also love the idea of this song, as we all examine our own privilege.
Kishi Bashi – Manchester – He came through CT and I went to see him on a lark. Ended up being one of the top 5 shows I've ever attended, and this stunningly beautiful song was played in the middle of the room, acoustic, without amplification, as a final encore. Simply magical.
Sufjan Stevens – Tonya Harding (Eb Major) – This song is cut from the same cloth as his amazing "John Wayne Gacy," bringing great empathy and pathos to a maligned public figure. Much better than the other, cold arrangement he released in D, IMHO.
The Mountain Goats – Wear Black – If you don't laugh a few times during "Goths," TMG's latest album about our black-clad teenage friends, then you're not listening. John Darnielle is such a talented storyteller.
The New Pornographers – Colosseums – Like Stars, Canadian, without a bad album. Love the marimba groove on this one.
Showtime Goma – Big Disaster – I saw Jen Goma perform as part of Pains of Being Pure at Heart, and was so glad she put out a totally experimental and fun solo album.
Ice Choir – Amorous In Your Absence – Another artist that has performed as part of Pains, Kurt Feldman's Ice Choir project is totally canny in it's mastery of 80's synth production aesthetics. Love this song best on a great album.
Ted Leo – Can't Go Back – Ted Leo slept on my couch once in the 90's while on tour in VA… we stayed up all night and played The Smiths on acoustic guitars at the kitchen table. He sent a really nice postcard from later in the tour. Top guy, top song.
Morrissey – All the Young People Must Fall in Love – Of course I'm going to include something from Moz's newest. This is my fave, which reminds me of Bowie and T-Rex. I love the production on the whole record.
Scott Barkan – Flightless Bird – It seems to be a tradition for me now to include a super talented artist that I've gotten to know through teaching music composition at VCFA. Scott is a beast of a songwriter/singer/guitarist, and I loved this song when I first heard it at residency.
Tom Petty – Free Fallin' – If we're facebook friends, you might have seen my cover of this tune after Petty's passing. I simply can't drive through LA without singing it to myself at some point. What a great loss.
Hnry Flwr – Context (Trans-Pecos, on a Full Moon, on a Monday) – Hnry Flwr is an up and comping psychedelic rock/pop artist with CT connections. Keep an eye on him, I expect great things. This song is actually a live acoustic track but love it's simple and direct message of love. We need it this year.